World Report (26 June - 2 July 2021) Tougher restrictions for UK travellers...
World Report (26 June - 2 July 2021) Tougher restrictions for UK travellers...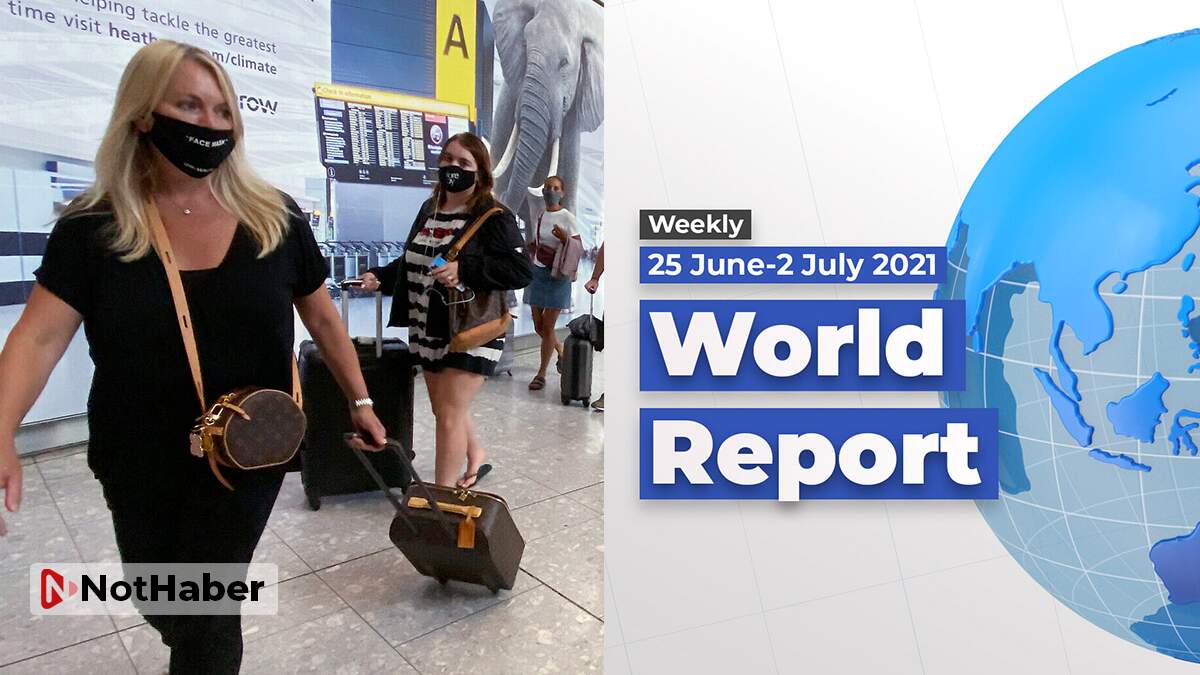 Tougher restrictions from Germany for UK travellers because of concern about the Delta variant are on the way
Germany wants tougher restrictions for UK travellers because of concern about the Delta variant
German Prime Minister Angela Merkel, who has been in power since 2005, said she wanted other countries to follow Germany's lead by introducing tougher restrictions for UK travellers because of concerns about the Delta variant.
Since May, UK holidaymakers have been banned from entering Germany and all other arrivals from the UK must quarantine for 14 days.
In contrast to Mrs Merkel, British Prime Minister Boris Johnson on Thursday said that double vaccinations could be a "liberator".
The highly infectious Delta variant threatens the successful virus control of Australia
Simultaneous outbreaks of the coronavirus in several parts of Australia, most notably in Sydney, fueled by the spread of the highly infectious Delta variant.
In Sydney, which has gone into at least a two-week lockdown, cases grew by 18 on Monday and now stand at 130. It is the worst outbreak Sydney has seen since last year. Other states across Australia also reported a handful of new cases, threatening the nation's successful control of a virus that has ravaged many countries far worse.
Restrictions have been toughened, with lockdowns in Perth and Darwin, along with Sydney.
Lebanon banks close in solidarity after assault on staff of Lebanese Swiss Bank
Banks in Lebanon have closed for the day after an assault on staff at the headquarters of Lebanese Swiss Bank.
About 100 men stormed the building in Beirut on Monday night, trying to access closed accounts and injuring three employees, according to the bank. The Association of Banks in Lebanon denounced the "disgraceful attack" and said branches would shut in solidarity.
The Lebanese pound has lost more than 90% of its value against the US dollar since 2019 and inflation has skyrocketed, wiping out people's wages and causing food prices to triple.
A once-in-10.000-years heatwave hits Canada and Northern parts of the US
At least 486 sudden deaths recorded in British Columbia since Friday as temperatures soar on Canada's west coast. Lytton, a town in central BC, broke Canadian high-temperature records three times this week, hitting 49.6C
Authorities say nearly 500 people have died in Canada's westernmost province across five days, as record-breaking temperatures raise serious concerns for vulnerable groups, including the elderly.
Experts pointed out this kind of heatwave occurs in every 10.000 years. They have also said climate change contributed to the record-shattering heat.
Billionaire Investor George Soros' Fund Reveals Bitcoin 'Inflection Point'
The bitcoin price, now hovering near its all-time highs of around $60,000 per bitcoin, has soared as Wall Street giants and companies including Elon Musk's electric car company Tesla make big bets on bitcoin.
"We think the whole infrastructure around crypto is really interesting and we think that is at an inflection point" the chief investment officer of Soros Fund Management Dawn Fitzpatrick told, pointing to the growth of bitcoin and crypto exchanges, asset managers and custodians.