World Report (25 Sep - 2 Oct ) Latest news in the world
World Report (25 Sep - 2 Oct ) Latest news in the world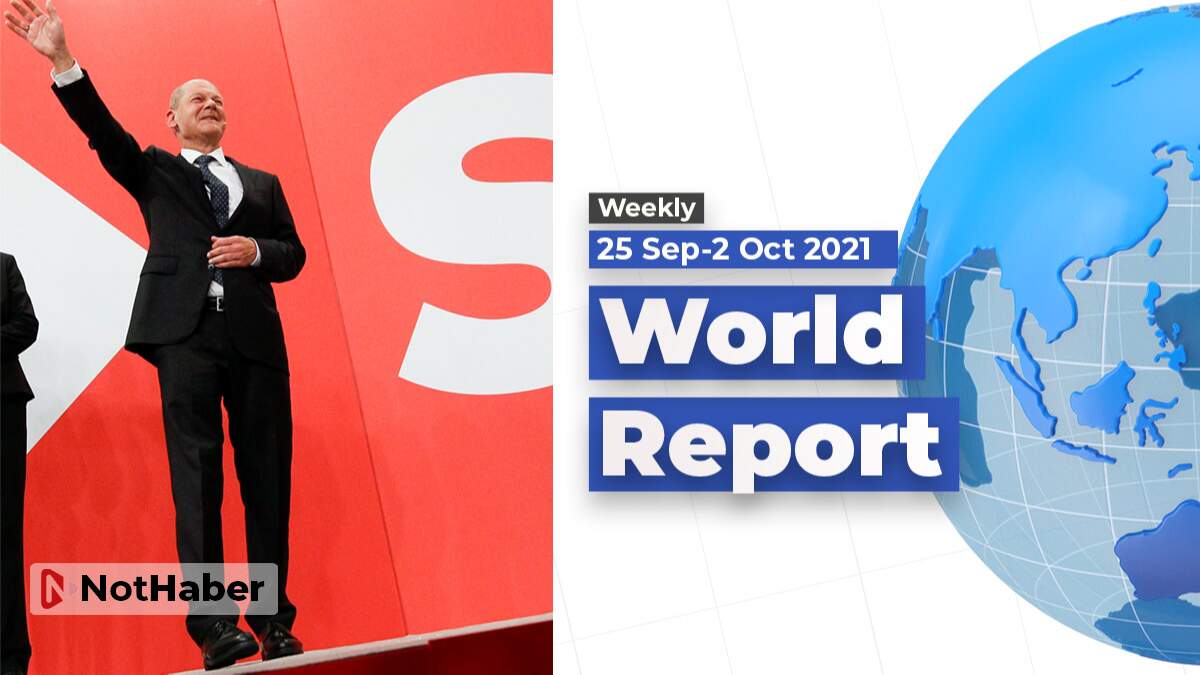 Social democrats' victory in Germany... Volcanic eruption on La Palma island... Brussels postpones talks with Australia and more...
The Social Democrats are likely to take charge in Germany
Angela Merkel has not been the prime minister of Germany anymore… In general elections, centre-left Social Democrats (SPD) rode a late surge to 25.7% of the vote, 1.6 points ahead of its conservative Christian democrat rivals. The Greens made history with almost 15% of the vote, and the Free Democratic Party which might be described as socially liberal and economically conservative, came fourth, with 11.5 per cent. Coalition talks have been continuing between social democrats, greens and liberals.
Volcanic eruption on La Palma caused massive destruction
Hundreds of properties have been destroyed and thousands of people have fled their homes after a volcanic eruption on La Palma in the Spanish Canary Islands. Lava flowed down the mountain and through villages after the crack opened in the Cumbre Vieja volcano on 19 September, throwing jets of lava and ash into the air and reached the ocean 10 days later.More than 6,000 people have been evacuated to the neighbouring island of Tenerife. The Canary Islands Volcano Institute has suggested the eruption could last between 24 and 84 days.
EU postpones trade talks with Australia over submarine row
A long-planned round of Australia-EU free trade talks have been postponed, a European official confirmed Friday, after fury over Canberra's decision to cancel a multibillion-dollar contract for 12 French submarines, opting to buy nuclear-powered US-designed vessels instead.The decision prompted a major diplomatic spat with one of the European Union's largest members and now appears to have hit ties with the entire bloc. The EU is Australia's third-biggest trading partner. The two economies were valued at 36 billion euros and at 26 billion euros in services.
Fights break out as panic causes petrol stations run dry in Britain
Thousands of British petrol stations have run dry, an industry group said, as motorists scrambled to fill up amid a supply disruption due to a shortage of truck drivers. Fights have broken out at some petrol stations as tensions run high.The Petrol Retailers Association, which represents almost 5500 independent outlets, said about two-thirds of its members were reporting that they had sold out their fuel on Sunday. The UK is short tens of thousands of truckers, due to a perfect storm of factors including the coronavirus pandemic, an ageing workforce and an exodus of foreign workers following BREXIT.
French President Macron hit by egg thrown from crowd in Lyon
French President Emmanuel Macron was hit by an egg while taking part in a food event in Lyon on Monday. The egg "bounced off Macron's shoulder and burst on the floor. The President's security quickly intervened, tackling the attacker while pulling him away from the crowd barrier. The motivation behind the incident remains unclear. Macron was previously targeted with an egg in 2017, when he was a presidential candidate. The egg cracked on his head in that incident. In June this year, he was slapped in the face by a man in a crowd as he spoke to the public during a visit to southeastern France.