World Report (23-30 July): French protesters against the police... Afghans queue up to get passport
World Report (23-30 July): French protesters against the police... Afghans queue up to get passport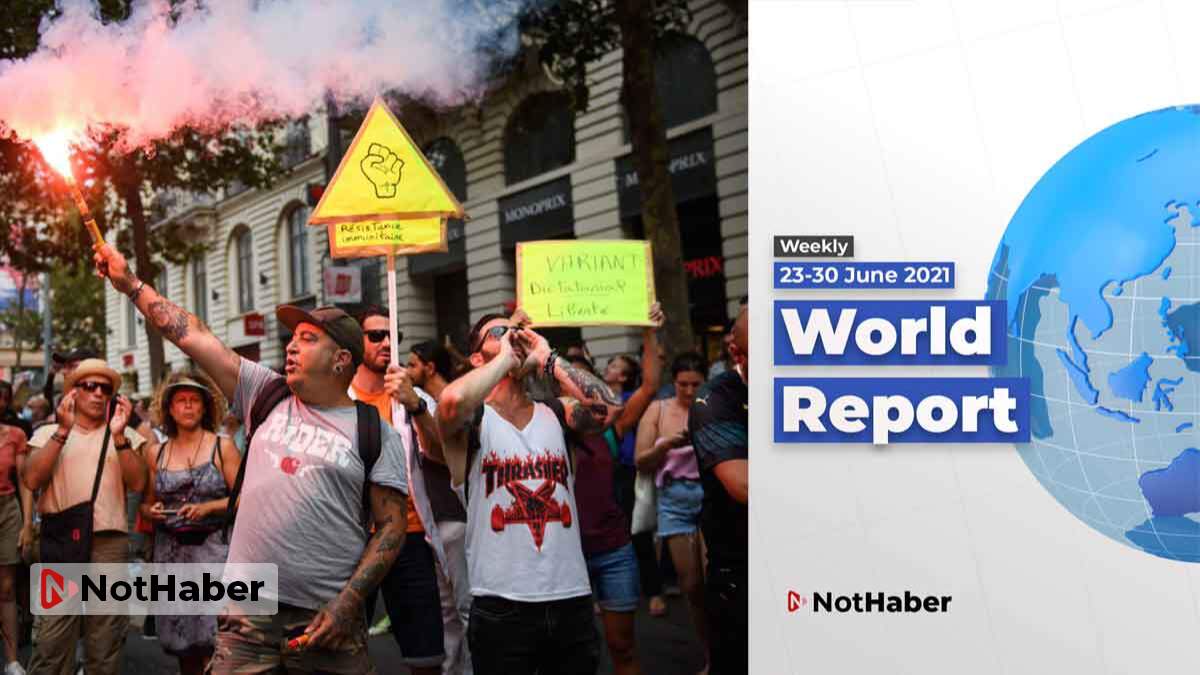 French protesters against Covid-19 health restrictions clash with police... 'Our lives are in danger': Afghans queue up to get passports and more...
French protesters against Covid-19 health restrictions clash with police
French anti-riot police fired teargas on Saturday as clashes erupted during protests in central Paris against COVID-19 restrictions and a vaccination campaign. A heavy police presence on the capital's streets. Scuffles between police and demonstrators also broke out on the Champs-Elysees thoroughfare, where teargas was fired and traffic was halted.Across France, protests were planned in cities including Marseille, Montpellier, Nantes and Toulouse. An official with France's interior ministry said 161,000 people had demonstrated across the country on Saturday, up from 114,000 a week earlier.
'Our lives are in danger': Afghans queue up to get passports
With the Taliban making huge advances in the countryside as foreign forces wind up their withdrawal, many Afghans – those with the means, at least – are looking for a way out. Not everyone will make an immediate exit but most want the safety net – knowing they can leave at short notice.Dozens begin lining up at the passport office in Kabul before dawn most days, and by eight in the morning the queue already stretches for a good hundred metres. Interpreters for foreign troops and embassies have been particularly vulnerable to Taliban reprisals and many nations have evacuated thousands under emergency visa schemes.
'The Walking Flower': How Macron's Polynesia visit failed
French President Emmanuel Macron who visited French Polynesia to showcase his country's commitment to the region became a meme for turning into a 'flower man.
'While Macron arrived in French Polynesia's capital, Papeete, he was greeted with flower garlands and Tahitian dancers on the tarmac as he kickstarted his first official trip to the French territory, overseas. However, he was greeted with numerous flower garlands that by the end of it, his formal suit underneath was almost invisible.The videos from his arrival show him walking while being entirely covered in flowers or as Twitter users termed "flower man," "flower warrior" or "the walking flower."
The final missing victim of the death toll has been identified
The final missing victim in the Surfside condo collapse has been identified, bringing the death toll to 98, Miami-Dade County Mayor Daniella Levine Cava said Monday. The announcement comes days after authorities ended their search for bodies at the site and more than a month after the deadly collapse.The 98th victim was identified by her family as 54-year-old Estelle Hedaya. The Miami-Dade Police Department is still searching the evidentiary pile "to ensure that all identifiable human remains are recovered." In total, 242 people were accounted for.
Could Covid vaccine be taken as a pill?
Right now, protection against Covid-19 comes via an injection. But in future, those vaccines could come from inhalers or even pills.
In a white, airy laboratory in Medicon Village, one of southern Sweden's largest science parks, chemist Ingemo Andersson holds up a thin, plastic inhaler, half the size of a matchbox.Her team is hoping this tiny product could play a big role in the global fight against coronavirus allowing people to take powdered versions of future vaccines at home. So far, it has only been tested on mice, although ISR and Iconovo have raised enough funding to begin studies on humans within the next two months.