World Report 2-9 July 2021
World Report 2-9 July 2021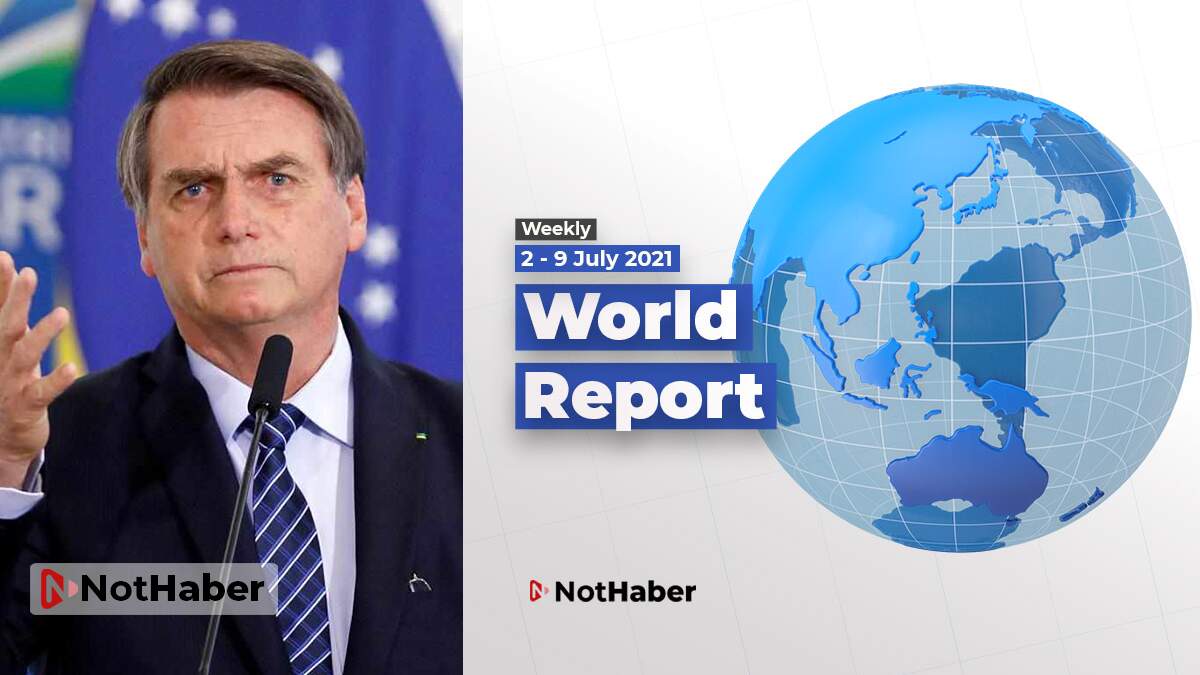 Bolsonaro in trouble with corruption... Hungary's LGBT clash deepens, and more...
President Jair Bolsonaro is accused of involvement in scheme to skim his aides' salaries
The scheme, known locally as rachadinha, involves hiring close associates as employees and then receiving a cut of their public salaries back from them. The story, based on audio recordings of Bolsonaro's former sister-in-law, Andrea Siqueira Valle, provided by a source, is the first time the president has been directly implicated in a rachadinha scheme, despite numerous awkward questions about his role in Flavio Bolsonaro's alleged racket in Rio.
This comes as Bolsonaro is seeing his anti-graft credentials, which helped get him elected president in 2018, questioned by a scandal over alleged corruption in the government's vaccine procurement efforts.
Azerbaijan mud volcano triggers huge blast in Caspian oil and gas fields sending flames into the sky
A huge explosion has been seen off the coast of Azerbaijan in the Caspian Sea, sending plumes of black smoke and flames into the sky.
The blast took place about 10km from the Umid gas field, which is 75km off the coast of Azerbaijan's capital Baku. The blast, which erupted in an area full of oil and gas fields on Sunday, was caused by a mud volcano. None of the oil farms were damaged and no-one was hurt.
Mud volcanoes are formed underground by water, minerals and flammable gases, which can ignite when they erupt.
Haiti police say 26 Colombians, two US-Haitians took part in Jovenel Moise assassination
A heavily armed commando unit that assassinated Haiti's president, Jovenel Moise, was composed of 26 Colombians and two Haitian Americans, authorities have said, as the hunt goes on for the masterminds of the killing.
Moïse, 53, was fatally shot early on Wednesday at his home by what officials said was a group of foreign, trained killers, pitching the poorest country in the Americas deeper into turmoil amid political divisions, hunger and widespread gang violence.
Moise had become the president of the country in 2017 and should have left from his position by February, according to the constitution of Haiti.
A new anti-LGBT law went into effect in Hungary despite EU's warnings
Hungarian Prime Minister Viktor Orban vowed on Thursday he would not give in to EU pressure to repeal a new law banning schools from using materials seen as promoting homosexuality, as the bloc's lawmakers called for penalties over the legislation.
"Here Brussels bureaucrats have no business at all, no matter what they do we will not let LGBTQ activists among our children" Orban said on his official Facebook page.
Critics say the law wrongly conflates paedophilia and pornography with LGBT issues. Ursula von der Leyen, head of the EU's executive Commission has called it a "disgrace".
Tokyo venues for Olympics will have no spectators; Games under a state of emergency
Tokyo venues for the pandemic-delayed Tokyo 2020 Olympics will not have spectators due to the city's coronavirus state of emergency through the Games, according to the Japanese Olympic Committee. The state of emergency will cover the entire period of the Olympics, which are scheduled to run from July 23 to August 8.
The announcement was made following a meeting of five Olympic and Japanese government groups responsible for the Games. Three prefectures near Tokyo will not have spectators at Olympic competition venues, Miyagi, Fukushima, and Shizuoka prefectures have decided that venues can be filled to 50% of capacity with a maximum of 10,000 spectators.