World Report (18-25 June 2021) 3.5 billion € for Turkey... Flu pandemic on the way...
World Report (18-25 June 2021) 3.5 billion € for Turkey... Flu pandemic on the way...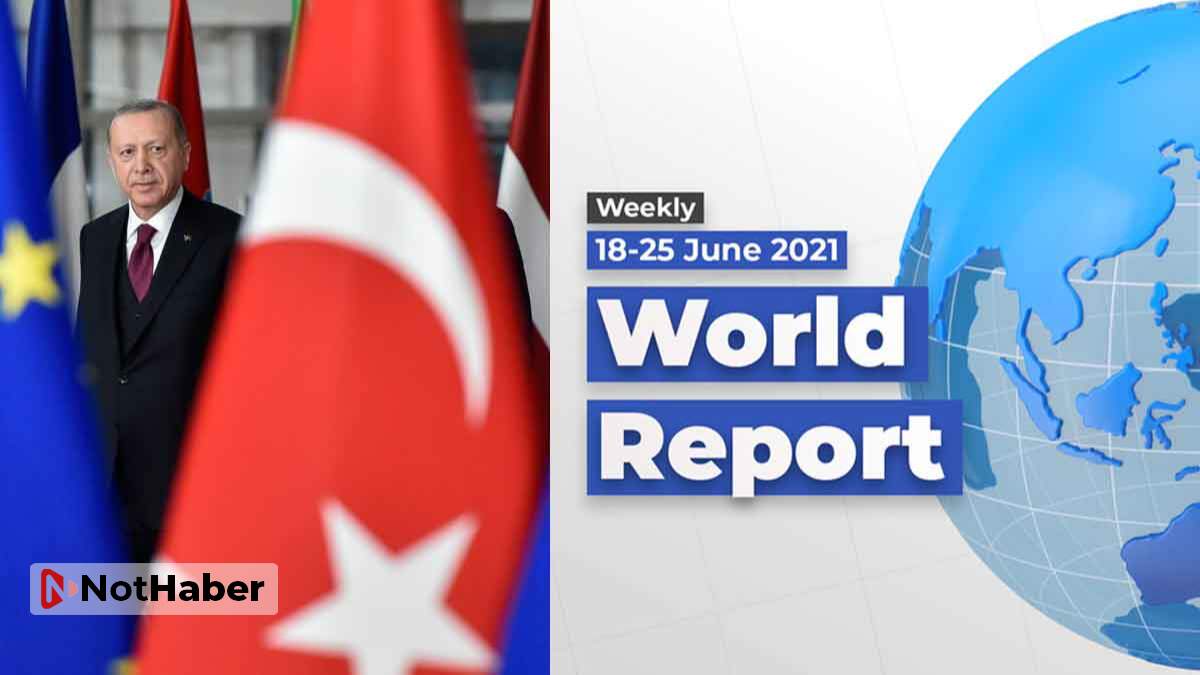 EU summit conclusions on Turkey welcome de-escalation, focus on customs union and migration. 3,5 billion euros funding package to Ankara. 
The terminology regarding a gradual, proportional, and reversible EU-Turkey cooperation, as articulated at the March EU summit and the report issued by EU foreign policy chief Josep Borrell
The EU leaders call upon the Commission without delay to table proposals to continue funding for Syrian refugees and host communities in Turkey, Jordan, Lebanon, and other areas in the region.
It should be noted that the Commission has drafted a 5.7 billion euros 2022-2024 funding package for the aforementioned countries. Of that amount, 3.5 billion euros have been earmarked for Turkey.
Although various critics, the putschists in Myanmar have stretched diplomacy to its limit and are confident in their impunity after the coup.
The military dictatorship now ruling the Southeast Asian nation has brushed aside the entreaties and threats, even as the country of 54 million people hurtles toward paralysis and possibly civil war that could destabilise the region. Confident in its impunity after a Feb. 1 coup, the putschists have stretched diplomacy to its limit.
The coup leader, Senior Gen. Min Aung Hlaing, appears to have secured vitally important allies — China and Russia — insulating Myanmar from any interventionist steps and believes in the junta's impunity. The general also oversees a powerful patronage network built around two military-owned conglomerates and his family's businesses.
The country suffers from repression of largely peaceful protesters and exasperation of human rights.
Protests erupt after Lebanon bids to curb fuel smuggling and problems over bread supply. Demonstrators blocked highways and burned tires...
Worsening living conditions in Lebanon threaten the country's integrity. Demonstrators blocked a highway connecting Lebanon and Syria on Monday with burned tires and metal bars, protesting a decision aimed at curbing smuggling into Syria.
Gasoline smugglers blocked the Masnaa crossing after security forces moved to prevent them from driving through the legitimate crossing. Some are filling up their cars with goods and fuel and traveling into Syria through the Masnaa crossing to sell them on the other side at double the price.
Filling the streets, anti-government protesters chant slogans almost on a daily basis since provision of basic life goods is on the brink of collapse.
Philippines President Rodrigo Duterte said "You choose, vaccine or I will have you jailed" by threatening people with injection of an animal drug!
Frustrated by the slow pace of COVID-19 vaccinations in his country, Philippines President Rodrigo Duterte threatened people who refuse to get inoculated with jail or an injection of Ivermectin, an anti-parasite drug widely used to treat animals.
"You choose, vaccine or I will have you jailed," Duterte said in a televised address late on Monday, following reports of low turnout at several vaccination sites in the capital Manila.
Ivermectin has been touted as an alternative treatment for COVID-19 but U.S. and European regulators and the World Health Organization have recommended against it.
As of June 25, just 2.1 million people had been fully vaccinated of the 70 million people targeted for this year.
"Flu could be a bigger problem than Covid this winter", says eminent British professor Anthony Harnden
Professor Anthony Harnden, deputy chairman of the Joint Committee on Vaccination and Immunisation in Great Britain, said the UK could be in a "really good place" this winter with the success of the vaccine rollout but this may not be the case for flu.
"I will emphasise (to the government) that actually flu could be potentially a bigger problem this winter than Covid." he said.
Harnden points out, low prevalence of flu for the last few years, particularly virtually nil during lockdown. So, flu circulates in very low numbers immunity drops in the population and it comes back to "bite" us. Eventually, flu can be really, really important this winter according to the professor.